Dentures in Columbus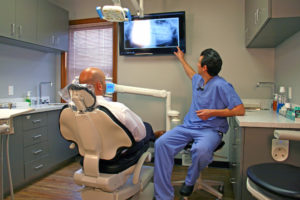 Dentures: Complete and Partial
Why Would I Need Dentures?
There is a myriad of reasons why you may consider dentures. Many people turn to these dental appliances in hopes of remedying problems that come with having missing teeth, including difficulty eating or speaking. Tooth loss can be caused by a variety of factors, the most common being periodontal disease and tooth decay. That being said, let's get a better understanding of what dentures are and how they can help you!
Different Types of Dentures
Whether you opt for the complete or partial variation of these dental appliances, they both perform the same basic function, which is to provide you with a strong chewing surface and improved speech and smile. Dentures are fake teeth attached to a plastic base, matching both the color and appearance of your natural teeth and gums.
Partial Dentures
Partial dentures are used to replace a few missing teeth and they are supported by the rest of your natural teeth using a metal framework attachment. Crowns can even be used to anchor the fake teeth to your existing teeth, adding more support. Partial dentures are removable.
Complete Dentures
Complete dentures are used to replace all of your teeth. Complete dentures rely on suction to remain in place, and are completely removable. They must be taken out at night to be cleaned and to allow your gums to breathe.
If you have any remaining teeth before getting complete dentures, they are extracted and your mouth is given time to heal before you receive your dentures. You are able to get an immediate denture so you are not without teeth for the healing process. These can even help protect the gums so they heal faster. The immediate denture will be made prior to your extractions appointment, so that you will be able to place them in your mouth once your teeth are removed. The main benefit of immediate dentures is the ability to go out in public right away, as well as getting used to having dentures before the finals are created. Once your mouth heals completely, the shape of it will change, so your dentist will have to make adjustments to ensure your dentures fit perfectly.
Implant-Supported Dentures
In order to ensure your dentures don't slip and are fully secure in your mouth, many patients opt to have implant-supported dentures. In this procedure, a few dental implants will be installed. Once your gums are fully healed, your dentist will create dentures that connect to the implants to keep them secure inside of your mouth. This allows for less slippage of the dentures. It also helps your jawbones to remain strong, as implants encourage you to retain bone density.
How Do You Take Care of Dentures?
Dentures are very fragile, so we urge you to be careful when cleaning or removing them. When taking out your dentures, we suggest cleaning them by rinsing with cold water, using a denture brush with denture cleaning solution, and leaving them to soak in cold water overnight. This will clear away food particles and keep the dentures from drying out. We also recommend avoid eating or drinking anything that will stain your dentures.
How Do I Know if Dentures are Right for Me?
At Fulks Family Dental, we are committed to finding the right solution for your missing teeth. We want to fulfill your smile goals and increase your confidence. To begin, we recommend coming in for a consultation with your dentist to discuss treatment options and decide what procedure is right for you. Schedule an appointment with us today to get started!