Sedation Dentist in Columbus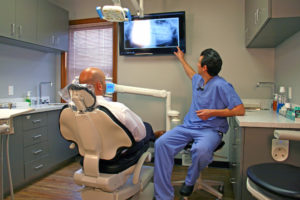 Sedation Dentistry
Sedation dentistry, often referred to as sleep dentistry, allows us to create a relaxing experience for those who are uncomfortable with dental visits. Sedation dentistry also benefits those who postpone needed treatment due to dental anxiety. We offer several types of sedatives. Knowing your options can help minimize your fears so you can get the dental treatment you need.
Many Patients Benefit From Sedation Dentistry
There are some people who assume that sedation dentistry is intended only for those with severe dental phobias. Not so. While sleep dentistry is beneficial to those who are uncomfortable going to a dentist, you should know that sleep dentistry is preferred by many of our patients under a variety of situations. Those who prefer sedation dentistry include:
People who need more work done in fewer treatment sessions
Those prone to tooth sensitivity
Patients with a lower level of pain tolerance
Those with a sensitive gag reflex
People who are unable to hold still for an extended length of time
Patients who get nervous or anxious before and during a dental procedure
Not everyone needs the same level of anesthesia to make their visits more pleasant. The type of anesthetic used during your treatment will be based on several factors. Your dentist will use the level of sedation that best suits your needs. You may feel better knowing the sedation levels that are available. The various types of sedatives include:
Inhaled Sedatives: Nitrous oxide sedation, or laughing gas, provides a minimal level of anesthesia. The nitrous oxide mixed with oxygen and inhaled through a mask. You will be awake during your visit but will feel relaxed. The effects wear off quickly after your visit.
Oral Sedation: This minimal to moderate level of relaxation typically provided by a pill taken prior to your appointment. The medication will help you relax but may make you feel a bit drowsy. You may fall asleep while your dentist works, but are easily awakened.
IV Sedation: Intravenous anesthesia is administered through your vein. This allows the medication to work quickly to help you relax or fall asleep. Your medication levels can be adjusted as needed by your dentist throughout your treatment session.
Sedation dentistry safely benefits millions of patients every year. Even patients with severe dental phobias are able to get the treatment they need through the use of sedation dentistry. If you have questions about sedation dentistry, be sure to ask your dentist, or give our office a call. Dental anesthesia during your next visit could help you overcome your apprehension and preserve your healthy smile!